I really like this Captain Atom fan site. I have a feeling I will be re-blogging a lot of their articles in the future.
Splitting Atoms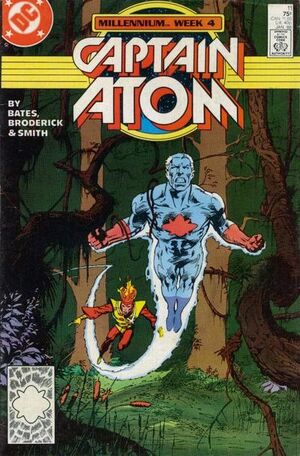 "A Matter of Choice"
Writers

:  Cary Bates & Greg Weisman
Pencils:  Pat Broderick
Inks:  Bob Smith
Colors:  Nansi Hoolahan
Letters:  Duncan Andrews
Cover Artist:  Jerry Bingham
This issue came out October 6, 1987 and was a tie-in with the Millennium crossover event.  Since Cap was seen (briefly) in Justice League International #9, he appeared in Secret Origins #22, Blue Beetle #20, Millennium #3 & 4, Teen Titans Spotlight #18, and Action Comics #596.  Suicide Squad #9 leads into this issue and it is followed by Firestorm #68, both of which also feature Captain Atom.
Four of the books tied in with week four of Millennium had covers that combined (not perfectly) to form one complete picture.  They were Captain Atom #11, Spectre #10, Detective Comics #582, and Suicide Squad #9.

At this point in the Millennium story, Firestorm is working with the Manhunters, having been convinced…
View original post 1,550 more words